Featured Companies Nearby:
Processing
Listed Since: May 2012
---
Established in 1983, Bears Towing & Recovery, Inc. has more than 27 years experience in all types of towing and recovery. We offer 24 hour service with computer and radio dispatched drivers. Using the latest in computerized billing, our business has been built on quality and efficiency while providing towing and recovery services with ICC Authority. We strive to give our customers quality at affordable rates. With an emphasis on personalized service, we guarantee you will be completely satisified with our efforts. Whether you require Light or Heavy Duty Towing or Heavy Hauling, we are prepared to meet your needs. Contact us at 318-388-3021or 800-489-2327. Let our knowledgeable staff help you solve your towing problems!
---


Bears Towing & Recovery
Give us a call (318)388-3021
(318)878-5555 (Delhi)

203 First Street
We also have
a used parts division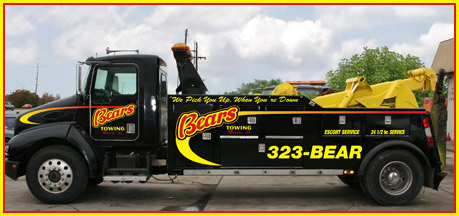 Here are some of the services we Provide
Auto Towing
Local Towing
Flatbed Towing
Vehicle Storage
Jump Start & Battery Service
Tire Change and Repair
Lock Out Service
Gas Service
Winch & Recovery Service
Other Towing Services
Roadside Service
Light Duty
Motorcycle Towing
Heavy Duty & Truck Towing
Medium Duty
---
All Towing.com Sites are managed by Moving Sites, LLC.
© 2007-2019 Towing.com - Nationwide Towing Services & Products. All rights reserved.